What to expect from the visit to Tsarskoe Selo

Have you heard about a palace with dozens of golden rooms? And would you like to see more gold and amber than you have ever seen in your life? Then welcome to Catherine Palace, the jewel of Russian Baroque style and one of the most spectacular palaces in the world. Nowadays, it functions as a museum and attracts over 4 million tourists every year. When you come to St. Petersburg, it is one of the attractions you cannot miss!

Catherine Palace



The story of Catherine Palace starts at the time of Peter the Great, the founder of St.Petersburg and one of the most famous Russian tsars. In the beginning of the 18th century he presented his wife Catherine a piece of land in a picturesque area not far from the city where she constructed a small cozy palace to spend warm summer months. The place was called Tsar's village, which in Russian sounds as "Tsarskoye Selo." After Peter passed away his daughter Elizabeth came to power, she was notoriously known for her love of parties and dances, so she ordered the construction of another palace at the place of her mother's mansion where she could "party her life away":). Three times Elizabeth was not satisfied with the result, so three times the building was demolished and reconstructed anew. Eventually an astonishing Royal Palace was constructed under the guidance of architect Francesco Rastrelli, who decorated each of the 54 rooms with gold. The Dancing Hall of the palace is especially impressive: 860 square meters, 700 candles, gold-plated moldings and giant painting on the ceiling. Definitely worth seeing!

Amber Room



There is one more room in the Palace which is known as "Eighth wonder of the world" – the Amber room. For many people it is the main reason to come to Tsarskoye Selo. All the walls in the room are covered with carved amber panels, mosaics and, of course, gold. With this room Elizabeth wanted to take her guest's breath away and that she did! During World War II the amber panels were stolen by Nazis, but the room was recreated and reopened in 2003, after 25 years of meticulous reconstruction by Russian craftsmen.

Catherine Park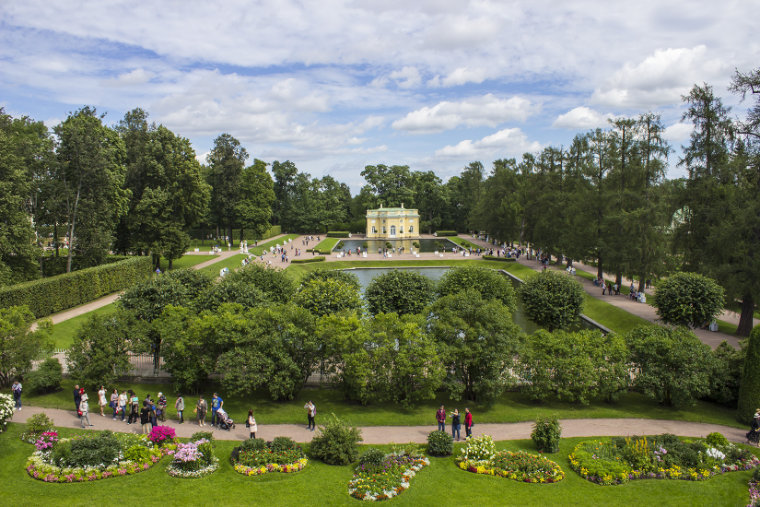 Next to the palace a large park is located, known as the Catherine park. If you like walking and want to see all the pavilions, bridges and statues, this will definitely take you a full day! The Park was mainly developed at the time of empress Catherine II or, as Russians call her, Catherine the Great. She wanted to have the whole world at her fingertips, so she decorated the area with Greek, Chinese, French, Italian and Turkish style architecture. The Park consists of two parts – French style garden and free-flowing English garden, between the two parks there is a lake for boat rides, one of Catherine's favorite activities.

Alexander Palace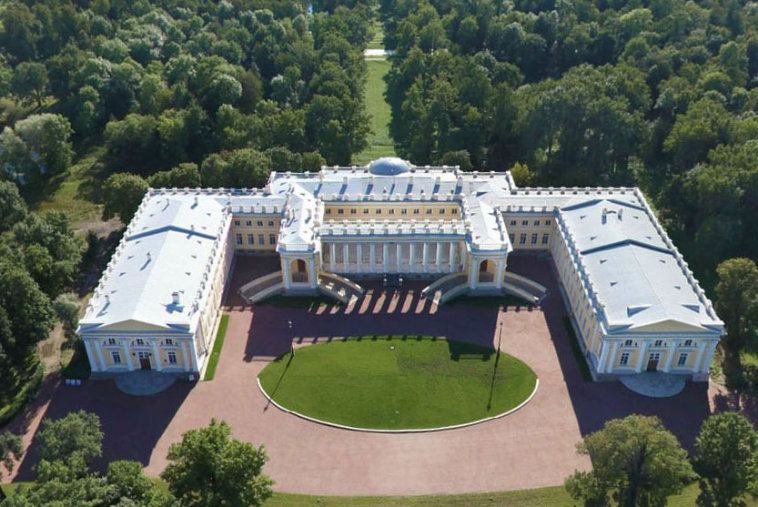 Not far away from Catherine park you can find another Imperial Residence – Alexander Palace. It may take 4-5 minutes by car or 20-25 minutes by foot to get there. The palace was constructed in the end of the 18th century by famous Italian architect Giacometti Quarenghi, master of classical style structures. Empress Catherine the Great ordered to build the palace for her first and favorite grandson, Russian emperor Alexander the First. After his death it belonged to several generations of the Romanovs family, including Nicholas II, the last Russian tsar. In 1905 Nicholas made the Palace his official permanent residence and in 1917 after his abdication from the throne he lived in Alexander Palace with his family as a prisoner under supervision of the Bolsheviks. Interest in Russian history attracts lot's of tourists to the Alexander palace and park, however, much less than to Catherine Palace. The Alexander residence is a great option if you would prefer to avoid large crowds, besides Alexander park has a really relaxing atmosphere.

Tsarskoye Selo or the town of Pushkin?



Foreign visitors are usually confused with the name of the area where both Catherine and Alexander palaces are located. As it was mentioned above, the place was originally called as Tsar's village or Tsarskoe Selo. This name is still popular, but officially these summer residences are located in the town of Pushkin. Alexander Pushkin is one of the most famous Russian poets, whose verses most of Russian people know by heart. After the revolution of 1917 the name "Tsar's Village" became ideologically inappropriate for the town in a Soviet State; therefore the area was renamed in honor of Alexander Pushkin, who studied in a school nearby. Nowadays, the school is a museum and statues of Pushkin can be found in different parts of the city.

Plan your trip



In high season (from May until September) around 10 000 people visit Tsar's village daily and almost all of them want to visit Catherine Palace with its famous Amber room. Empress Elizabeth designed her residence to be spacious enough for a large number of guests, but she couldn't expect so much interest, as the Palace just cannot fit so many people. That's why the Catherine Palace Tour is probably the hardest to get in St. Petersburg. Tourists have to queue up for 3 hours and some visitors arrive 2 hours before the opening to take their place in line. The easiest way to get inside the palace is to take a guided tour of Catherine Palace and Park with skip-the-line tickets. A private guided tour also makes sense, since the only guided tours inside the Palace are in Russian. Hopefully, this information will be useful for you while planning your trip to Catherine Palace.